Romantic Dinner in St Auggy!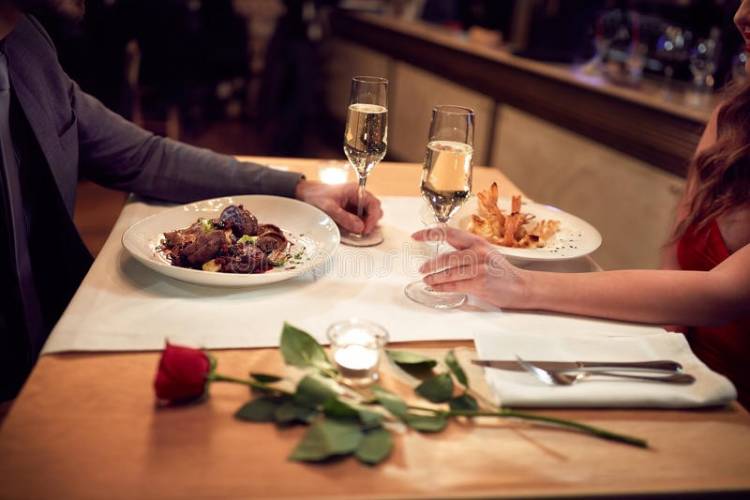 Romantic Dining Experiences in St. Augustine
Looking to impress a first date, re-kindle the fire of an existing relationship, or celebrating a special occasion as a couple? St. Augustine is the place to be! Filled with historic charm and a history of love since the first recorded St. Augustine wedding back in 1594, it's the perfect romantic spot with many activities and especially intimate dining experiences.
Michael's
25 Cuna Street
Michael's is located on the scenic Calle Cuna, in the heart of Historic Downtown St. Augustine. The building began as the Buchanti House that dates to 1764.
Michael's menu changes seasonally, created by focusing on Steaks and Coastal Spanish Inspired Cuisine with influence from the finest local ingredients. The restaurants casually elegant approach brings together friendly hospitality with a dedicated focus on impeccable guest service.
La Cocina International
530 A1A Beach Boulevard
This elegant option at the Castillo Real offers Latin-inspired American cuisine & a long wine list. Open for breakfast, lunch, and dinner, this international restaurant is the perfect spot for date night.
https://lacocinarestaurants.com/
Preserved
102 Bridge Street
Led by James Beard-nominated chef and owner, Brian Whittington, Preserved serves authentic southern cuisine with a French flair. They are committed to serving fresh, regionally sourced ingredients with southern hospitality. Preserved opened in 2016 and is located in the heart of St. Augustine's historic Lincolnville neighborhood in a late 1800s Victorian house that was once the home of the great granddaughter of Thomas Jefferson.  
https://www.preservedrestaurant.com/
Forgotten Tonic
6 Aviles Street
Forgotten Tonic is a hidden neighborhood gem located in the heart of St. Augustine's historic art district. They feature modern twists on freshly prepared American comfort food, an extensive wine list, hand-crafted cocktails & captivating southern hospitality.
Catch 27
40 Charlotte Street
Catch 27 stands in the heart of historic St. Augustine, Florida and believes in preparing and serving fresh, locally caught seafood from the nation's 27th State.  All dishes are cooked from scratch with seasonal ingredients and local produce. The Fish, Shrimp, and Clams are caught in Florida waters, delivered fresh every day.  The selection varies from Snapper to Sheepshead, Mahi Mahi to Triggerfish, and Flounder to Black Drum.  Sea folk and Landlubbers will all find something they'll enjoy. The restaurant's small size makes dining an intimate experience. 
Raintree Restaurant
102 San Marco Avenue
Since opening in 1981, The Raintree continues to be recognized nationally and internationally as one of Florida's top destination restaurants. The intercontinental menu blends Mediterranean, American and Asian cuisine. At Raintree, you'll enjoy the finest ingredients in the food prepared for you. From the Canadian Lobster and Argentinean Chorizo in our exquisite Paella to the Chilean Sea Bass finished in a Japanese-style panko crust. The Beef Wellington is a favorite dish with the St. Augustine locals and no dinner is complete without the delicacies from the dessert bar. Their professional staff will be happy to assist you in choosing the perfect bottle of wine to accompany your meal. An evening at the Raintree definitely provides a romantic atmosphere.
Terra & Acqua
134 Sea Grove Main Street
Featuring authentic modern Italian cuisine, Terra & Acqua brings the treasured flavors of Tuscany to beautiful Saint Augustine Beach. With Chef Recommendations (and guest favorites) like grilled octopus and lobster ravioli, bringing fresh Italian-style seafood to a Florida beach town is a win for everyone! For those who prefer food from the land ("Terra"), the pasta and pizza dough are made fresh every day. And guests will find an extensive menu of northern Italian favorites – from Bolognese to Wild Boar to Florentine Steaks. Terra & Acqua has a beautiful patio for alfresco dining and a full bar offering specialty and classic cocktails, a beautiful wine list and rotating seasonal draft beers.
Nonna's Trattoria
2 Aviles Street
Located in an intimate spot, ideal for a romantic interlude, on the beautiful, quiet Aviles Street, this restaurant's chef with 20 years of experience cooking in the finest restaurants is excited to present their vision to all guests. The caring and committed staff will ensure you have a fantastic experience with them.
Llama
415 Anastasia Boulevard
This small restaurant is perfect for a cozy date night yet immerses you in a fine dining experience that allows you to explore the rich culture, ingredients & tastes of Peru. Each dish is meticulously crafted using authentic ingredients that tells a story rich in Peruvian history and cultural influence. Taste the passion of recipes humbly inspired by chef's family table, Japanese training and LeCordon Bleu education. Our food doesn't just satisfy your hunger, it fills your soul and satisfies your curiosity for the unexpected. Relax, unwind, and explore!
The Floridian
72 Spanish Street
This restaurant features innovative southern fare for omnivores, herbivores, and locavores. Regionally inspired and fresh from the source, the cuisine is a fusion of down-home southern comfort foods, and lighter, healthier, vibrant, and creative dishes--with many vegetarian options. Supporting local growers and producers makes sound, sustainable sense to The Floridian. The menu changes continuously with the seasons and reflects a sincere appreciation of traditional Southern cooking with an updated dedication to keeping it fresh--literally and figuratively. Keep an eye out for their featured Farm, Fish, and Artisan partners. A restaurant's menu can only be as good as the ingredients used to craft it.
Harvest & Reel
300 A1A Beach Boulevard
Set in a modern open kitchen design, Harvest & Reel in St. Augustine Beach provides an elevated and unique coastal dining experience for a romantic evening. Enjoy a refreshing hand crafted cocktail experience at the Rhum Bar, delivering rhum based cocktails (and no, rhum isn't a misspelling. It's an abbreviation from the term rhum agricole, a type of rum that only comes from Martinique. While most rums are distilled from fermented molasses, rhum is made from fresh pressed sugar cane juice with the freshest of ingredients and other island favorites). With indoor and outdoor Oceanview seating, Harvest & Reel is the place to be on St. Augustine Beach. After dinner, relax next to the fire or take a stroll on the beach! 
Cap's on the Water
4325 Myrtle Street
Cap's has created an enjoyable environment with ample seating to accommodate your wait as reservations are not accepted. They have waterfront seating as well as an "Old Florida" style pavilion. There are three bars serving award winning wines, as well as craft cocktails featuring local spirits and brews. The deck accommodates comfortable seating with heaters flanking each table while giving you a front row seat to sunsets off the intracoastal waterways. The covered and weather protected pavilion maintains comfortable dining in any weather. The outdoor oyster bar or sunset bar is ever evolving but always uplifting part of the restaurant. It's a place to sit and drink a beer and enjoy oysters while taking in the sunsets that make them famous. So, for a beautiful evening on the water, it's the place to be!
https://www.capsonthewater.com/
Costa Brava
95 Cordova Street
Once you and your partner step inside the Casa Monica hearing the mingle of conversation and the scent of Mediterranean flavors will pique your curiosity. Follow them into Costa Brava, one of the best places to eat in St. Augustine. Find something worth sharing—whether it's a bottle of wine, an adventurous selection of appetizers or the buzz of friendly conversation. When you partake in the ancient tradition of sharing a meal, you're guaranteed to discover something you've never experienced before.
www.kesslercollection.com/costa-brava-restaurant
Cafe Alcazar
Café Alcazar is an elegant eatery situated in the space of the Lightner Museum originally designated for the largest indoor swimming pool. Their innovative chefs take pride in creating truly unique dishes made from the freshest ingredients, local and organic. They are open seven days a week from 11AM to 3PM for lunch which leaves time for a romantic stroll around the historic downtown district to discover its and your partner's charms! While reservations are not required, they are HIGHLY recommended, especially between October and March.
https://www.thealcazarcafe.com/cafe-alcazar/
A romantic evening doesn't have to end with dinner. Extend your romantic retreat with one of our luxurious fully furnished and equipped condos at Seaside at Anastasia!