Great Tips for Beach Trips with Baby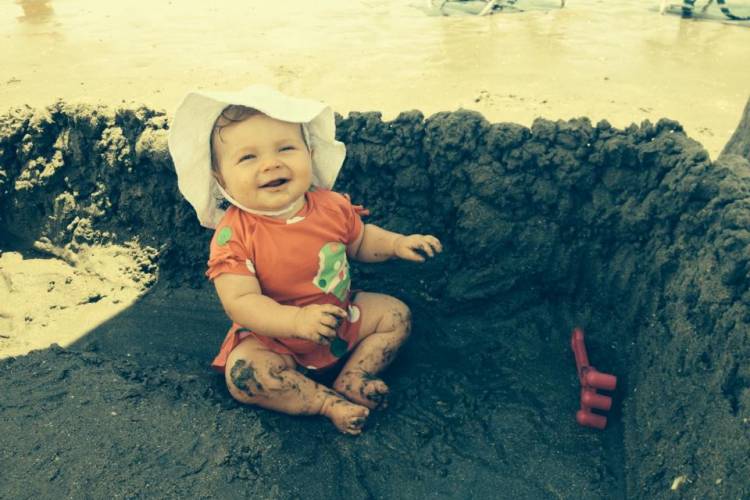 Are you headed on a beach vacation with a baby or toddler to St. Augustine? Planning a day on the beach with an infant can be challenging, but with a little planning ahead, both you and baby can enjoy the time near sand and water. Here are some tips to make it a wonderful day for you and your little one.
1. Bring an Inflatable Pool and Beach Umbrella
Buy a small inflatable pool and a beach umbrella to keep baby cool and contained at the beach. This is a great tip for new crawlers and babies who put everything, including sand and rocks, in their mouths.
2. Use the Timer on Your Phone 
Set a timer on your phone so you know when it's time to reapply sunscreen to baby and yourself. Make sure you cover sensitive exposed spots like the tips of the ears and back of the neck. Set another timer for water intake so you don't get dehydrated.
3. Use a Laundry Basket
Use a roomy laundry basket to pack your beach gear. It will store all the towels, snacks, and toys you're bringing, and it can also be a play area or napping spot for younger babies if you line it with extra-soft towels and keep it in the shade. 
4. Create a Play Area with a Bedsheet
Turn a fitted bedsheet upside down and place a bag or cooler in each of the four corners to keep the sheet tight. That will create sides that act as a barrier to sand and keep your curious baby from exploring the whole beach.
5. Pre-freeze Snacks
Freeze a few food pouches and yogurts the night before your beach outing if your baby is eating solid foods. They'll thaw out into a chilly, slushy consistency at the beach and will help keep your baby cool. 
6. Spray Away the Heat
Even with shade, babies can get too hot, so bring a small spray bottle filled with ice water to spray on your baby at regular times and if they look flushed. One of the battery-operated fans with a water reservoir works well, too. 
7. Remove Sand with Cornstarch
Cornstarch is a very effective way to remove sand from the baby's skin. Sprinkle it onto exposed arms and legs and watch it work by drying skin so sand wipes off easily and painlessly. Talc-free baby powder works as well.
8. Roll your Load
Bring your wagon or jogging stroller so you don't have to carry baby along with the beach bags, cooler, umbrella and chairs you're bringing. Dragging strollers backwards is easier than pushing them forward in the sand. Wagons with larger wheels are also easier to roll in the sand. 
9. Use a Pop-up Tent for Naps
Plan on staying at the beach all day? A small pop-up tent would be a wise purchase so the baby can sleep in a cozy shaded spot away from the sun and sand.
10. Pour Apple Cider Vinegar into a Post-Beach Bath
Sometimes babies get a little pink from the sun despite our best efforts with sunscreen and UPF-treated bathing suits. Soothe itchy and burning sunburnt skin by adding a few drops of apple cider vinegar to the bath after your day on the beach.  
11. Chill Your Sunscreen
Put the sunscreen in your cooler to keep it cold so when you re-apply at the beach, you'll cool down baby's body temperature as well as protect them from the sun.
12. Bring a Stash of Cool Washcloths 
Put a few damp washcloths in a plastic bag while you're packing the cooler. They'll clean up messes and cool baby down as needed. 
13. Skip Expensive Beach Toys
There is so much at the beach to satisfy a baby's sensory needs, so don't spring for expensive beach toys. Bring a bucket and shovel set so the baby can explore the shapes and textures of sand, water, shells, and seaweed. For extra fun, bring a watering can, some bath toys or small cars and trucks. These can be found at many dollar stores. 
14. Use a Mesh Laundry Bag for Beach Toys 
Load beach toys into a mesh laundry bag when you are ready to head home or back to your condo. The sand will naturally fall out as you walk back.  Hose down the contents while still in the bag to clean them. 
15. Freeze Water Bottles 
Place unopened water bottles in the freezer the day before your beach outing. The bottles act as ice packs to keep snacks and drinks cool, and you'll have chilled water throughout the day.
16. Don't Forget the Hat
It is your highest priority to keep baby's sensitive skin safe from the sun. A hat with a broad rim will cover your baby's head but also ears and neck. It should also offer UPF+ sun rating for extra protection.
17. Bring Extra Towels
Bring along a few extra towels, including a hand towel for baby, and place them in a container that remains sealed while you are on the beach. This will allow you to wipe off sand or warm-up little ones who have gotten wet and chilled with a nice fresh towel. 
18. Get a Cooler on Wheels 
Coolers on wheel with lots of storage pockets can be invaluable for your day on the beach and free up your hands.
19. Keep it Brief
Plan your beach outing around naptimes and meals to help keep your baby happier. A shorter beach trip also means toting less stuff and a decreased chance of sunburn, especially if you are staying at a nearby condo! 
20. Bring a Small Fan 
If it's not a windy day, connect a battery-powered mini-clip fan to your umbrella which will  help keep your baby's body temperature down and give everybody a break from the heat. 
21. Create an Enriching Play Experience
Gather up shells and rocks, which have interesting textures and colors (choose larger items and provide plenty of supervision to avoid a choking hazard) as the beach offers lots of things for baby to touch and explore. Pour some water on the sand so your little one can see and feel how sand changes when it gets wet.
22. Help Baby Learn New Words
Develop baby's vocabulary by pointing out boats, waves, umbrellas, and whatever else you see at the beach. You can also write out the words in the sand while calling out each letter. 
23. Keep Baby from Sunburns
Applying sunscreen frequently is vital, but swimsuits and hats with UPF+ protection also provide another important layer of protection. Reapply sunscreen to exposed body parts throughout the day and after being in the water.
24. Ditch the Diaper Bag
Leave the diaper bag behind to keep it sand-free. Buy an oversized beach bag and pack it with a reusable or plastic bag for diapers and wipes. Pack extra plastic bags for soiled diapers. 
25. Dig a Hole
Use a shovel to dig a hole in the sand for baby to sit and play in. The sand in the hole will be cooler than what was exposed to the sun. If you're feeling crafty, shape a baby-size chair in the sand.
26. Leave No Trace
When you leave the beach, please be considerate to other people and our marine life by filling in holes and taking all trash with you.